Genolier
As a partner of the M2 catamaran Genolier Surgical Sails we participate in a superlative sport event. In sailing as in banking, it is the team that leads to success with its commitment and know-how.
M2 Speed Tour
Genolier M2 Surgical Sails is the name of the Genolier Group's regatta catamaran sponsored by us. The Genolier Team is a part of the M2 Speed Tour and has achieved good results since its first participation in 2009.
People make a difference
Sailing is a team sport and requires excellent material knowledge, discipline and responsiveness. The focus is always on the people. This is also our philosophy in banking, which is why we are proud to be able to contribute to its success with our colours on the sail.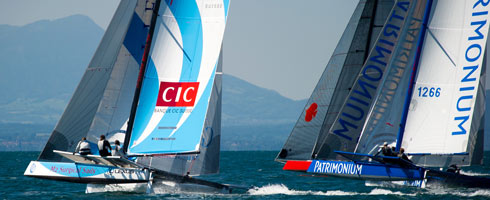 Regatta M2 Speed Tour