Swiss Alzheimer Association
With our commitment to the Swiss Alzheimer Association, we are committed to improving the lives of people with dementia.
We do not forget those who forget!
Around 700 000 people in Switzerland are confronted with dementia (Alzheimer or other forms of the disease) every day, whether in their private or professional lives. The Swiss Alzheimer Association with its 21 cantonal sections makes an important contribution to ensuring that people with dementia receive optimal medical and human care and that their relatives are supported and accompanied in their great efforts in nursing and care.
We accompany this commitment communicatively in order to make the concerns of the Swiss Alzheimer Association better known and to contribute to the integration and acceptance of people with dementia and their relatives in society.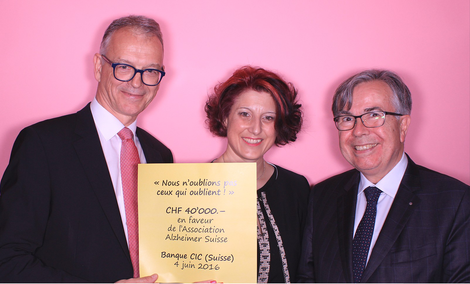 Pierre Schroeter, Head of Bank CIC in Fribourg, presents Luana Menoud-Baldi, President of the Alzheimer Association Section Fribourg, and Ulrich Gut, President of the Swiss Alzheimer Association, with the donation in the form of a Post-it sticky note at a charity evening organised by us in support of the Swiss Alzheimer Association. The Post-it note stands symbolically for memory.