YOUNG STAGE
The internationally renowned and biggest Circus Festival in Switzerland YOUNG STAGE is the springboard for a career for young artists and performers from around the world.
As a presenting partner, we are committed to ensuring that YOUNG STAGE can continue its success story. Since the first show in 2007, YOUNG STAGE has become one of the most important festivals in the world. Every year, the spectacle attracts more than 6 000 visitors and several hundred thousand TV viewers. The young artists show an eight-person jury of experts what artistry of the future means and are given the chance to win prizes and engagements in circuses, TV shows or variety shows.
The search for creativity
Together with YOUNG STAGE we are committed to the Nouveau Cirque. This takes place rarely in arenas, but more and more often in theatres or outdoors. It is artistically versatile, demanding and very creative. Nouveau Cirque is closely linked to France, which is why it suits us very well. For us and for YOUNG STAGE, quality at the highest level is part of our self-image. These are the ideal conditions for a sustainably successful partnership.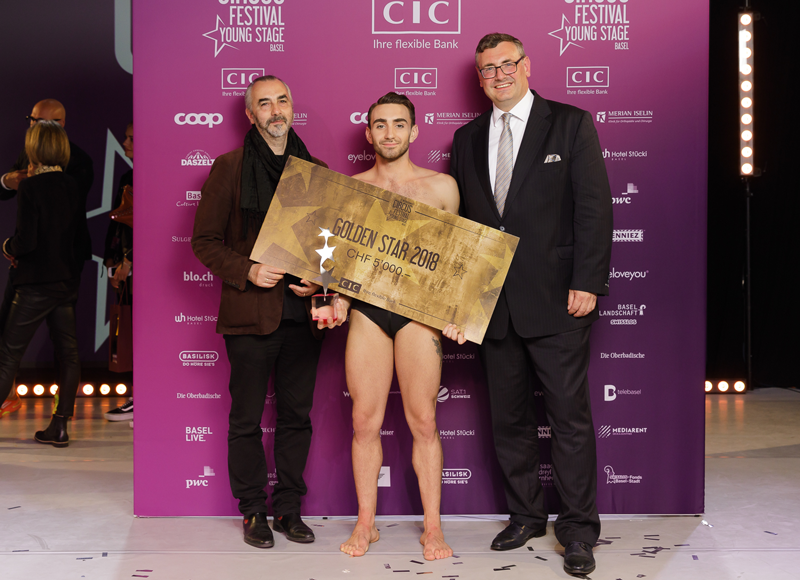 Thomas Müller, CEO of Bank CIC, presents the Golden Star to Arthur Morel van Hyfte, the winner of the YOUNG STAGE Festival 2018.