How are payments changing?
Credit transfers
The methods currently used for credit transfers by the banks (DTA) and PostFinance (EZAG) are to be harmonised by applying the ISO 20022 standard, bringing them into line with the new ISO-standard XML format. All providers of payment services in Switzerland will be required to make this switch. From 2021 onwards, the IBAN will be the only primary feature used to identify a bank account. Already widely used, it is to replace all country-specific account number formats.

Payment instructions will be able to generate automatic status messages in future, providing information on any errors, warnings or adjustments. Instructions must be issued in the ISO-compliant format in order to receive status messages.
Technical information
The ISO 20022 standard requires payment instructions to be transmitted as pain.001 messages. As recommended by SIX Interbank Clearing AG (or "SIX" for short), the existing DTA standard will continue to be supported until mid-2018, but Bank CIC will continue to support it until the end of 2018. Payment instructions that comply with the SWIFT MT standard are not being affected by the changes to Swiss payments and will still be supported.
Direct debits and eBill
The Swiss financial industry currently uses a variety of different direct debit (LSV) schemes. The standardisation process will see banks and PostFinance implement a single scheme throughout Switzerland with a common direct debit message (pain.008 format) based on the ISO 20022 standard. Direct debits are also to be integrated into e-billing processes gradually, enabling companies to settle their direct debits and e-bills via the same portal in future.

Existing direct debit mandates will remain in force.
LSV+/BDD (Business Direct Debit)
It is expected that direct debit instructions in LSV+/BDD format will no longer be accepted as of 2019. Any instructions currently in place will be switched to the new format automatically without any action required on the part of companies or private individuals.
Payment slips – soon to be the QR invoice
The current varied mix of red and orange payment slip versions will be replaced with the new QR invoice with integrated QR code. The QR invoice will be suitable for all payment types and supports billing in CHF and EUR. It will include the account number in IBAN format (IBAN/ISR-IBAN) as well as a data code (QR code). This QR code will contain all important payment information.

The QR invoice will be introduced throughout Switzerland expected mid-2019. There are plans for a transitional period during which both the old payment slips and the new QR invoice can be used.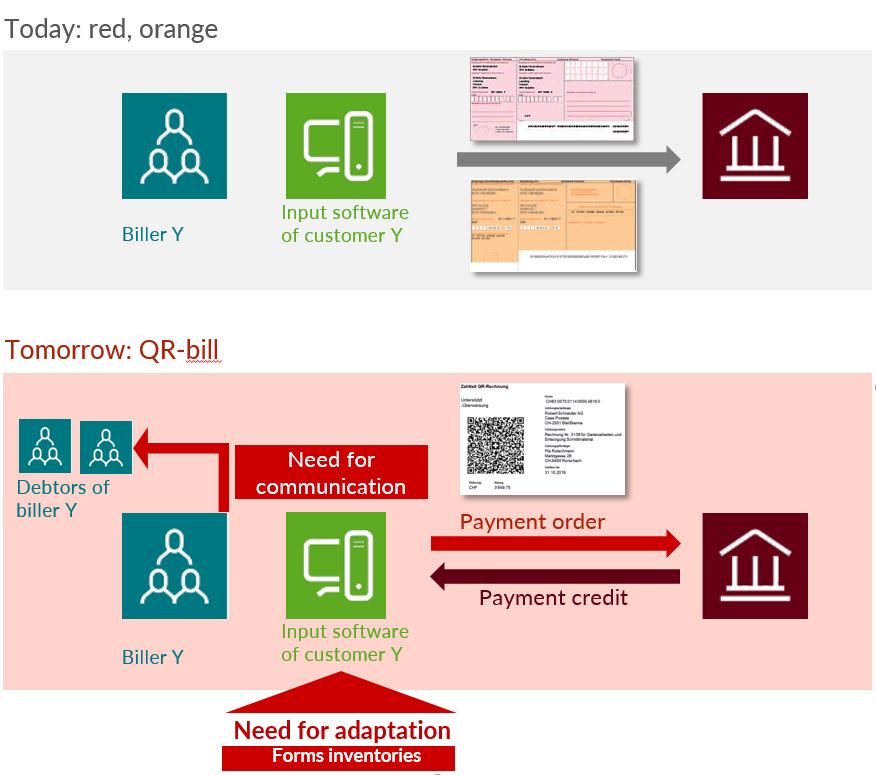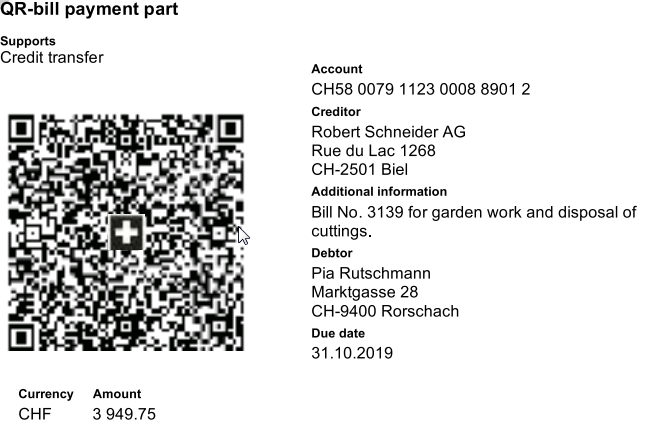 The new QR invoice contains the QR code with a Swiss cross as an identifying feature. The payment section of the QR invoice (in A6 format) can still be removed by people who do not want to use the QR code digitally.

The main new features for invoice issuers
The QR invoice can be created independently using commercially available printers because the payment section is now only in black and white.
The QR invoice can contain additional information for the invoice recipient such as the company identifier or an invoice number to enable automatic reconciliation with accounts.
The QR code itself can be included in media such as posters or flyers (e.g. for donations) and used for currently existing methods or alternative future methods; for example, eBill and TWINT are being discussed at the moment.
The main new features for invoice recipients
The payment section of the QR invoice is in black and white instead of colour, which improves the contrast and thus its readability, including for people with sight problems.
All the payment information can be captured and sent to the bank with a single click using a smartphone (mobile banking) or scanner (e-banking), for example. There is no longer any need to enter the data manually or complete it afterwards.
All the information required for payment is included in the QR code as well as being printed in the payment section so it can be read without any technical aids.
The QR invoice is also suitable for alternative methods such as TWINT or the eBill, if offered by the invoice issuer.
Technical information
The QR code is replacing the OCR-B encoding line, which contains only numeric data. The code incorporates all the information printed on the slip, including the ISR reference number or message and details of the payer, the payee and the amount. Companies that issue invoices with payment slips will need to switch their printing templates over accordingly and make sure that their billing system is able to generate the QR codes.
Notifications and reporting
So-called cash management ("camt") messages are to be used for account statements. Account statements in SWIFT or PDF format are still available. Details of which message types Bank CIC will be offering and in what particular form can be found here.
Technical information
So-called cash management ("camt") messages are to be used for account statements. The end-of-day account statement using camt.053 messages will be available with or without detailed information as standard. Intraday account statements and debit and credit notifications will be provided as camt.052 and camt.054 messages respectively.