When the fruit has grown over two generations
Banking has one thing in common with the wine trade: it is a matter of trust. That is why Nicole Ziltener Bollinger, the head of the Château André Ziltener wine house, has trusted her client advisor at Bank CIC – like her father, the company founder – for almost two decades, both privately and commercially.
Gentle hills and striking vines characterise Burgundy, which some call the heart of France. This picturesque spot is considered one of the oldest and noblest wine regions in the world – 50 years ago, Klaus-Dieter Ziltener, who died three years ago, rediscovered it. Together with his wife he founded a wine house in order to make the big wines better known in Switzerland, Germany and Austria.
His dream lives on with his daughter Nicole Ziltener Bollinger, who now runs the Château André Ziltener wine house with 80 employees. "I love the pure Burgundy wines that express the terroir, the character of the earth," says Nicole Ziltener Bollinger, raving about the elegant Pinot Noir red wines and the complex Chardonnay white wines from this region.
Stony ground in the wine business
However, Ziltener Bollinger, who studied business administration at the University of St. Gallen and continued her education in oenology, emphasises that the wine business is not for raptured bon vivants. The floor in the industry is pickling hard. Competition has intensified in recent years. "The large retailers are boosting their wine business with immense marketing budgets and consumer behaviour is changing with digitalisation," explains Ziltener Bollinger.
Their recipe against these trends: Château André Ziltener concentrates on high-quality wines, which it distributes exclusively – including competent advice. There is no middleman. This year alone, the wine house is present at 30 trade fairs.
Everything from a single source
It has been 16 years since Nicole Ziltener Bollinger fully entered the parental business. Four years earlier, the company had made its first contact with Bank CIC. Since then, the relationship has grown – over two generations of the Ziltener family.
"A change was never an issue for me," emphasizes Ziltener Bollinger: "No matter what financial concerns are involved, I turn to my account manager Andreas Dill, who offers me everything from a single source. He knows my professional and private situation, responds to individual needs and shows us flexible solutions at attractive conditions". The banking business has one thing in common with the wine business: it is a matter of trust.
50th anniversary – and a lot of reasons to celebrate
Over the years Andreas Dill has not only been able to expand his knowledge of wine, but has also set up several projects with Nicole Ziltener Bollinger. "We were allowed to realise some real estate projects on a greenfield site. These are, so to speak, visible fruits of our cooperation, which give pleasure," says account manager Andreas Dill.
Ziltener Bollinger and Dill are also delighted to celebrate the 50th anniversary of Château André Ziltener this year. The wine house thanks its long-standing customers with an anniversary wine and invites them to a glass of champagne at trade fairs. Finally, in summer, the anniversary celebration will take place with a tasting of red Grand Crus from Burgundy, which will review decades of the company's history. But the chances are good that Nicole Ziltener Bollinger and Bank CIC will celebrate further anniversaries.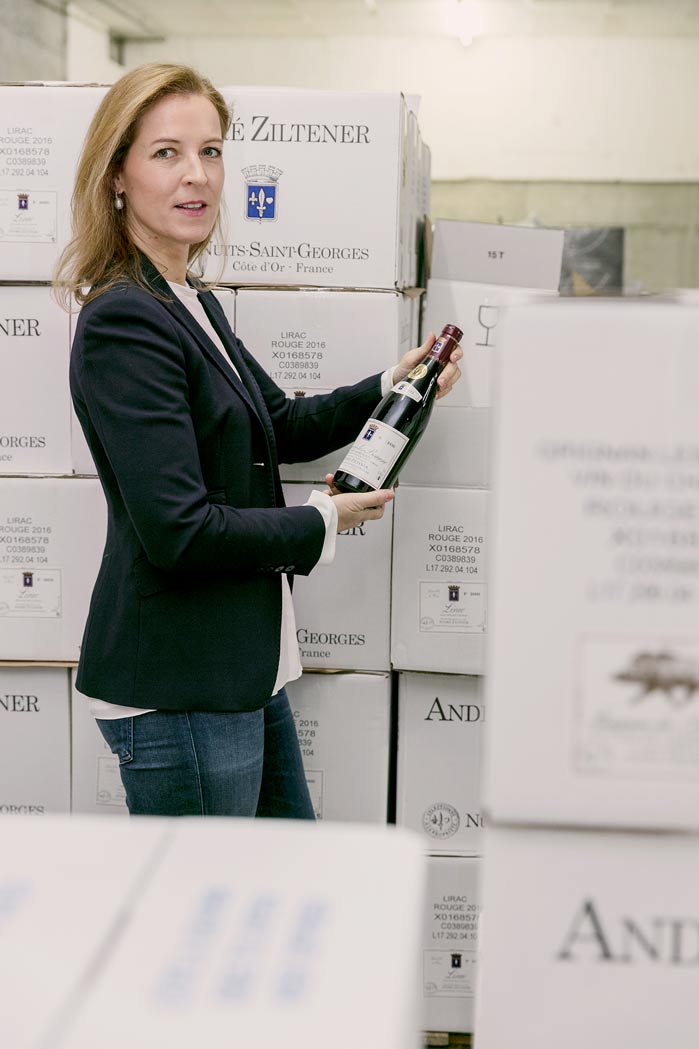 Nicole Ziltener Bollinger, Head of the Château André Ziltener wine house.