Avenches Tattoo
As partner to the Avenches Tattoo we contribute to a spectacular and authentic international military music festival that showcases the world's leading formations.
Avenches Tattoo is the little brother of the famous Royal Edinburgh Military Tattoo. Established in 1999, this international military music festival is now the second most important event of its type in Switzerland. Bank CIC is the new main sponsor of the festival.
Avenches Tattoo 2019
The 15th edition of the Avenches Tattoo international music festival will run from Thursday 5 to Saturday 7 September 2019. The festival will also mark its 20th anniversary this year. To celebrate this birthday, an exceptional programme of music is scheduled with the famous Top Secret Drum Corps from Basel.
Don't delay, order your tickets at: avenchestattoo.ch/en/tickets/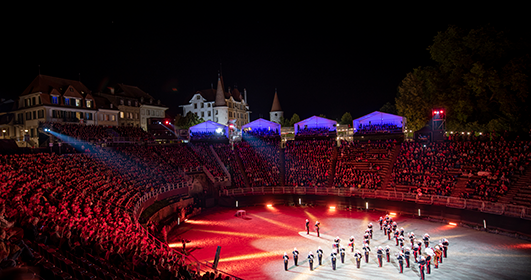 The Roman arenas in Avenches during the edition of Avenches Tattoo 2018.