Accessing the potential of European markets with a following wind
Over the course of half a century, what started as the passion of two sailing fans has grown into a leading wholesaler of sports and lifestyle items. Last year Bucher + Walt took a major step forward by acquiring Dakine Europe. One of the reasons the transaction was successful was that Bank CIC was on board.
Manfred Bucher and Pierre Walt missed out on the wave of success at their first sailing regatta on Lake Zurich. The two young men came last. They knew each other from secondary school, completed commercial apprenticeships and first tried rowing, then sailing. "Our first boat was secondhand. We had to fill in an awful lot of holes," recalls Manfred Bucher.
The pair quickly learned how to seize a favourable wind. With their business qualifications in their pocket, they moved to Lake Geneva to improve their French – and soon found themselves part of the sailing scene. Pierre Walt studied in England and spent every spare minute in a boat, getting to know manufacturers like Henri Lloyd, Proctor and Seasure. One day he took the opportunity to buy a boat straight from the maker. He had to install all the equipment and fittings on the hull himself. "That gave us a deep technical understanding", comments Pierre Walt.
The equipment of winners
Manfred Bucher won the Swiss championships in that boat as a novice. Other prizes followed, and Pierre Walt even won the world championships. "It didn't take long for our competitors to start asking about the equipment", grins Bucher. That marked the birth of Bucher + Walt. The official date of incorporation was 1 December 1966.

What started out as a hobby for two turned into the Swiss leader for water sports equipment. In 1984 the company moved to Saint-Blaise on Lake Neuchâtel. A second leg to the business was added: wholesaling in sports and lifestyle products and electronic devices.

Nowadays Bucher + Walt employs over 60 people just in Switzerland, and offers around 15000 products. The two founders are still in the business, but sons Julien Bucher and Romain Walt joined over ten years ago and are now at the helm. The love of sports has been passed on to them. Romain crews with his father, while Julien zips over the water on a wakeboard.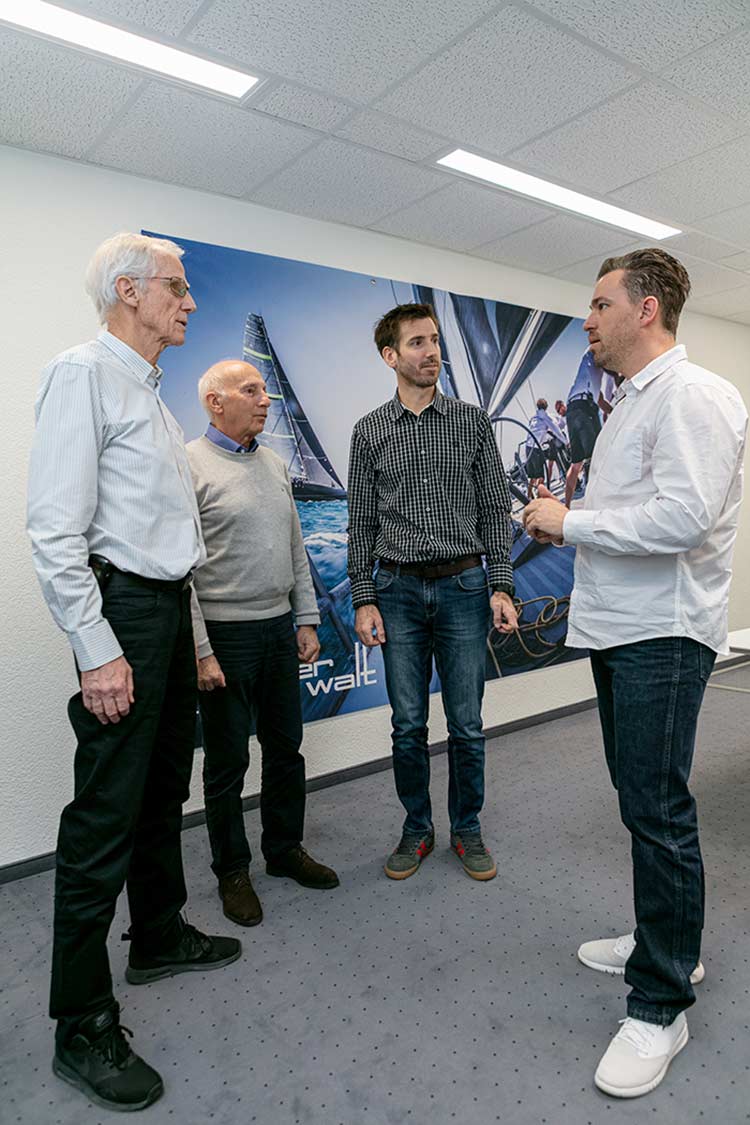 An enquiry from the USA
Last year Bucher + Walt encountered a strong favourable wind: as longstanding distribution partner, they took over Dakine Europe, based in Annecy, France. Saint-Blaise now has responsibility for the Dakine activities in the key markets of France, Germany, Benelux, Austria, Spain, Andorra, Switzerland, UK, Ireland and Italy.

Is a leap up in size like that reckless? Julien Bucher doesn't think so: "It was the new US owners of Dakine Europe, Marquee Brands, who wanted us to take on their European business. They realised they lacked the expertise for European markets." Also, they had taken a close look at the figures: Bucher + Walt were already generating the highest revenue per capita with the Dakine brand.

"It was not like when we were a start-up; a deal like that takes a lot more than just a handshake", remarks Manfred Bucher. Plenty of banks expressed an interest at the discussion stage, but all then declined due to the complexity of the transaction with the target company in France. Until Bucher + Walt got a tip from an accountant, saying they should get in touch with the Corporate Finance department at Bank CIC.
A deal involving three legal systems
The entrepreneurs were greeted with interest by relationship manager Thierry P. Lovis, Head of Key Accounts at Bank CIC in Neuchâtel.
"Instead of just focusing on the numbers, Bank CIC took the time to understand our business model. That matches our way of thinking exactly", explains Romain Walt. The timing was a challenge, admits Thierry P. Lovis. "One challenge was that the acquisition financing had to take account of three legal systems: American, French and Swiss", notes Jean-Pierre Cuendet, the bank's corporate finance specialist. "But thanks to the bank's short decision-making paths, we were able to deal with the requirements flexibly and suggest a customised alternative solution", he remarks.

After intense negotiations, a solution was identified that suited all involved. It acquired the inventory at market value and even got the rights to online marketing. In exchange, Marquee Brands got the certainty that its products would be professionally positioned in Europe. And best of all: "To our surprise, the employees in France were delighted to belong to us. They felt we would put their brand on the pathway to success", adds Romain Walt with enthusiasm. The cultures in Annecy and Saint-Blaise fit perfectly. The two sites have complimentary expertise.

"Of course we face plenty of challenging tasks, like optimising the IT infrastructure," admits Julien Bucher. But in the longer term, he has plans to further expand the European business.