You will be on target with your financial advisor as co-pilot
Anyone who has travelled by plane has touched their labels – but not many people know the manufacturer PrintAvia Aviation AG from Zwingen. Bank CIC has accompanied the company and its pilots from a flying start to today's new highs. Now is the time to aim for the future.
Paris-Charles de Gaulle, London-Heathrow, Madrid-Barajas. The list could go on and on. Because no matter which European airport you land at, you will come into contact with products from Zwingen. "Made in Zwingen" is in demand around the globe. Nevertheless, hardly anyone knows the small to medium-sized company behind it – PrintAvia Aviation AG. For the owner, founder and patron Sandor Puskas this is no problem, on the contrary: "We attach great importance to discretion and security. If our deliveries are late, the airlines would come to a standstill."
Printing and sewing machines rattle in the spacious production hall on the edge of the rural Basel village of Zwingen. 45 employees ensure that tickets, labels, baggage tags, uniforms, in-flight products such as soaps and first-class kits reach airlines and ground handling companies – on time and in top quality.
3 000 products from Zwingen for the rest of the world
PrintAvia Aviation AG stocks around 3 000 products and 500 tonnes of raw material. Depending on customer requirements, it delivers an additional 5 000 articles. In 2017 alone, it imported 2 500 tonnes of material and exported just as much. PrintAvia Aviation AG maintains its own duty-free warehouse for this purpose. Today, it is the only company in the world that covers the entire value chain under one roof.
Sandor Puskas started small 20 years ago – without any knowledge of the printing industry. He originally worked for an airline, purchasing these products. One day a Swedish manufacturer convinced him to join them and market its labels. But this project never really got off the ground. Puskas knew why: It was not enough to sell just one product. A product range was needed. Because corporate headquarters had a different view, he borrowed 20 000 francs, founded a limited liability company and started his first production.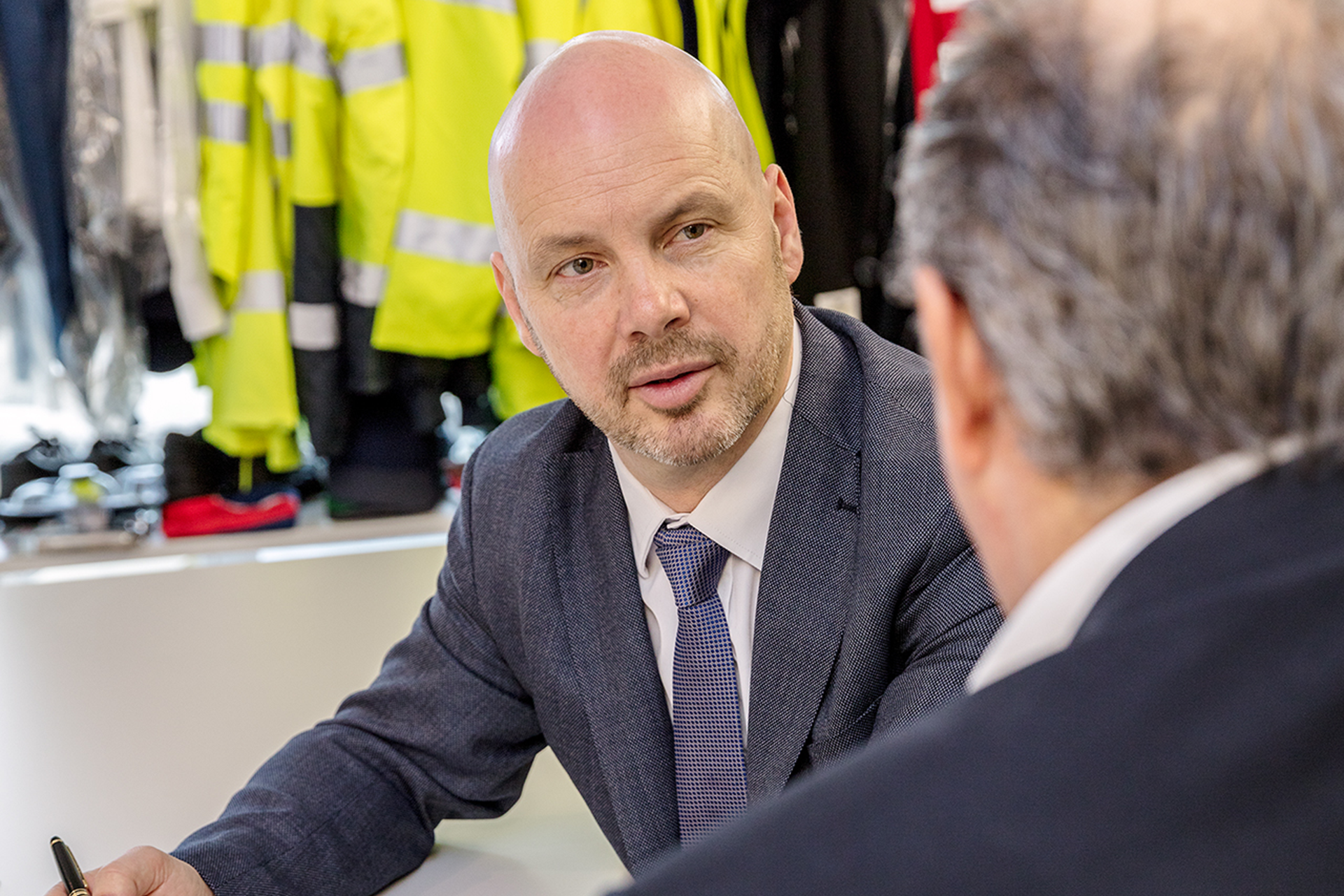 Reto Bornhauser of Bank CIC in conversation with Sandor Puskas founder and owner of PrintAvia Aviation AG.
Standard solutions are not enough
Shortly afterwards he met Reto Bornhauser. "He believed in my plans, although I was still in the initial stage," Sandor Puskas recalls. From then on it went upwards. Also thanks to services provided by Bank CIC such as overdraft and investment loans, guarantees and real estate financing, for both business and private application. "I exchange ideas with my bank advisor on a regular basis. We make joint decisions. I want to concentrate on my business – in the confidence that my advisor will take care of the financials," emphasizes Puskas. However, he is not satisfied with standard solutions.
Puskas trusts Bornhauser when it comes to professional and business finances: "Bank CIC has proven time and again that it can react very quickly. Because I get everything from one source, I not only save money, but also a lot of time." If Bornhauser understands the business model of his customers, it is because he takes a lot of time – also for company visits.
First preparations for the sale of the company
PrintAvia Aviation AG is currently experiencing a boom. It recently opened a warehouse in Miami. And in order to meet the demand, it is also purchasing two new machines this year and employing up to 10 additional people. Nevertheless, Sandor Puskas is still thinking of his succession – of stepping down at the age of 55. "In the next few years I want to put my company in new hands," he reveals. To this end, he is striving to sell the company. He is already exchanging ideas with Reto Bornhauser and Bank CIC.
PrintAvia Aviation AG is currently experiencing a boom. Owner Sandor Puskas is satisfied.