A successful corporate sale
The care staff of Spitex Perspecta are always there when you need them in the Basel region. Now investors from Italy are building on its leading market position – with help from Bank CIC.
The care industry is very demanding. Employees not only need medical knowledge, they also have to have psychological and even pastoral skills, as well as management qualifications. "It's extremely fulfilling work", says Marlies Venezia, a qualified carer with over 30 years of experience in healthcare. "But all the paperwork, cost cutting and appointment schedules are making it ever harder to give patients the attention they deserve. I used to dream of caring for people without all these pressures."
From talking with colleagues, especially Alessandro Hunziker, who was then a partner with an executive search firm, the idea emerged to set up a private company offering home care services: Spitex Perspecta AG.
Going the extra mile for clients
The business plan was drawn up in 2009. The first hourly paid carer started working in spring 2010. "She's still with us", Alessandro Hunziker says proudly. He gave up his headhunting job in 2012. A year later, Marlies Venezia resigned from her secure position at Basel University Hospital. From then on, they devoted their full attention and passion to building up Spitex Perspecta.

This has grown to have around sixty staff. It has a reputation in the Basel region to taking on "complex cases". "We go into hospitals, so we get to know our patients or should I say clients. We provide full support for them and their relatives. We even deal with the authorities for them", says Marlies Venezia. "Maybe the reason our clients are so satisfied is because our staff feel they have our support. If I have to, I look after people myself at the bedside."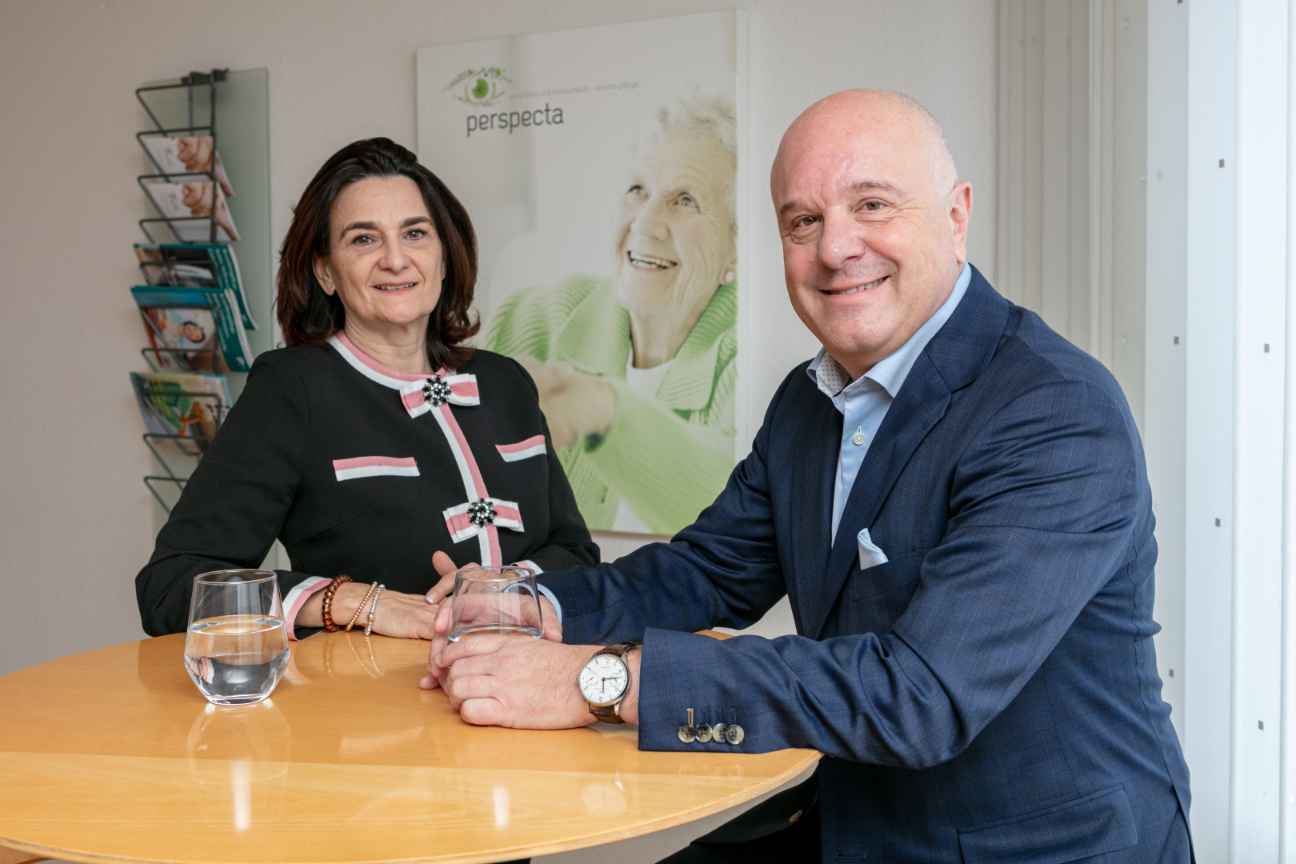 A challenging task
When it came to mapping out a future for Spitex Perspecta after years of growth, Alessandro Hunziker, who was already a mortgage client of Bank CIC, turned to Yves Grütter, the manager of the Bank CIC branch at the head office in Basel.

He put the owners of Spitex Perspecta in touch with the bank's corporate finance experts, Stan Plakun and Maxime Liechti. They are specialists in corporate transactions and leveraged takeovers.

Alessandro Hunziker and Marlies Venezia liked the fact that Bank CIC had already successfully handled several sales of similar companies, including one of a home care company in French-speaking Switzerland, so could point to proven expertise in healthcare. It quickly emerged that selling the company to a competent partner could be an attractive solution.
The two owners gave the corporate finance specialists the go-ahead to look for suitable potential buyers. They attached great importance to the sale process being conducted discreetly and to finding a buyer who would maintain quality and continue to employ the tried-and-trusted staff.
Several candidates
Ultimately, thanks to their international network, the Bank CIC specialists came up with several interested parties who met the sellers' requirements. During the subsequent discussions, Sol Group of Italy emerged as the favourite. They employ 4000 people around the world and are a leading manufacturer of medical gases. Through its subsidiary Vivisol, they also have global home care activities. They had already established a foothold in French-speaking Switzerland, so Spitex Perspecta would be a perfect way for them to move into the German-speaking part of the country.

Along with a delegation from Bank CIC, Marlies Venezia and Alessandro Hunziker spent two days talking to Sol Group representatives in Monza, Italy. "We were given a very warm welcome. And we got the feeling that the chemistry was right," recalls Marlies Venezia. Spitex Perspecta has been a part of the Sol Group since summer 2019.
New owners interested in development
"Thanks to Bank CIC we found a suitable owner and achieved an attractive selling price," comments Alessandro Hunziker. The bank orchestrated the whole international transaction from start to finish.

But you will still find the two founders of Spitex Perspecta in the company's offices every day. Nothing about their job has changed since the sale. "Sol Group is investing in our company and trusts us. But in the longer term, we would like to take things a bit easier though," they both say almost in unison.