The express route to a high school certificate
Academic Gateway is a new private school where everything is a bit quicker – both the corporate growth and the route to a high school certificate. That calls for a bank able to think as quickly as the company's founders.
It's just what you imagine for a long-established elite school: a location in the centre of Zurich in the old stock exchange building, just behind Paradeplatz. All the teachers have excellent qualifications. Many of them hold doctorates. The school motto is docendo discimus we learn by teaching.
A focus on what matters
But Academic Gateway is a private school that is younger than it looks. It has only occupied its specially built classrooms on a prime site in Zurich since the middle of 2017. And it was no more than a year before that the first class started its first year of studies. The school was founded in 2014.

"We both went to private schools and had a positive experience", says Fabrizio Fuchs (31), one of the co-founders and in charge of communication and teaching in the Rector's Office at Academic Gateway. "We" includes the other founder, Alexandre Touihri (33), who is Chair of the Board. "We thought it must be possible to get your federal high school certificate quicker if you just focus on the subject matter without any frills."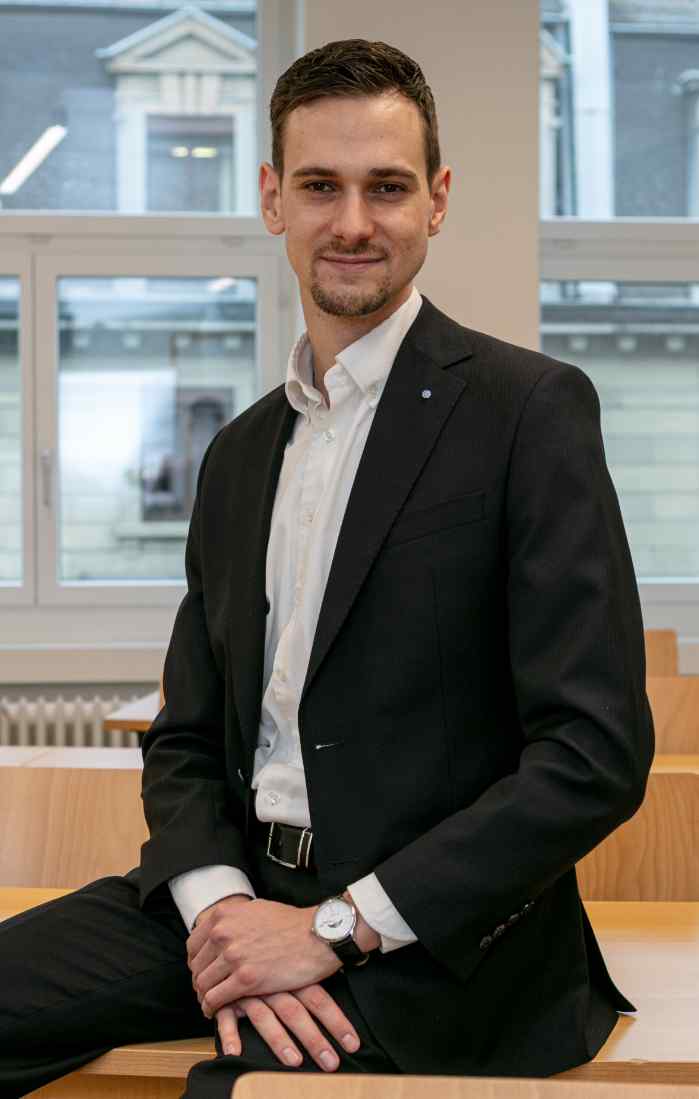 Free exam resits
Neither of the founders of the school is a teacher. They both studied at Zurich University: Fabrizio Fuchs did economics, Alexandre Touihri read law. Both see themselves primarily as entrepreneurs. And what the school promises sounds like an ambitious business objective: "Get your high school certificate in just a year." They have a high success rate: Academic Gateway has grown to be the largest institution preparing people for the high school certificate. "Anyone here who fails their high school certificate can resit the exam free of charge", insists Fabrizio Fuchs.

Most of the pupils, who all have to pass an aptitude test, are between the ages of 17 and 45. The oldest person to take the course so far was 57 when he started and got his certificate when he was 58. In addition to the standard high school certificate, Academic Gateway also offers the "bridge" to the certificate for those coming from a vocational secondary school or IT school, and the like. There is a programme for foreign pupils too, which organises not just the entire curriculum including lessons in the national languages of Switzerland, but also a visa and accommodation. This is a service Academic Gateway is keen to expand. Finally, you can even study for your high school certificate on your own, online. "What makes this practical is that you can access our teaching platform at any time, wherever you are. We see great potential for cooperating with Swiss schools all over the world", says Fabrizio Fuchs.
Straightforward financing
Academic Gateway started with nothing but equity capital. To finance expansion, though, it needed support from a bank. "We got in touch with various banks and encountered a great deal of interest in working with us", Fabrizio Fuchs recalls.
"Bank CIC was the only one to understand our objectives and our project from the very start; they asked the right questions, saw things from our perspective and came up with a customised financing solution."
Pierre Kammermann, Key Clients Manager at Bank CIC in Zurich, believes the idea of a high school certificate for rapid learners is right for today's world, where technology and society are changing ever more quickly. That's why Bank CIC helped to finance the working capital of Academic Gateway and the conversion work on the school building that was needed to expand the services offered.

"It was precisely because the bank checked the figures very thoroughly that the relationship grew deeper", says Fabrizio Fuchs with satisfaction. "We even managed to beat our revenue forecast by 25%." Reason enough to continue this partnership with long-term goals.